August 25, 2017
Posted by:

Joseph Noujaim

Category:

Media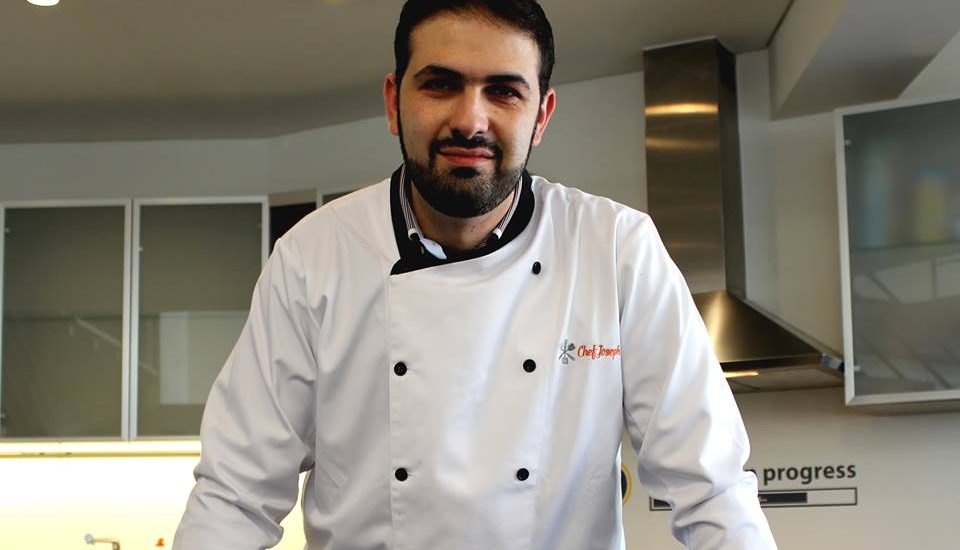 جوزيف نجيم: قد يقع الإنسان مرات عدة، لكنه قادر على الوقوف مجدداً مهما اشتدت حدّة السقطات
Joseph Noujaim is a Lebanese entrepreneur who has left his country for more than 15 years and then returned to invest his skills and experience as a Professional Chef in his native Lebanon.
He grew up from a small age on the basis of the culinary profession, and his family's work in the food industry had a great impact in his early years and education.
He is a creative person with his culinary ideas, creative in his inventions, out stands from his work, and today he is a star in the world of cooking and food creation.
"El Iktisad" met with Chef Joseph Noujaim, who introduced us to his long career and sent a very encouraging message to Lebanese youth, especially those who fear failure.
How did you decide to enter the food industry?
Since I was twelve years old, I left Lebanon with my family and settled in a country named Honduras in Central America.
My family owned an Italian restaurant there, and I helped them in the kitchen. Over time I liked the food domain, I enjoyed cooking and had a hobby of inventing non-traditional dishes. So I decided to specialize in culinary arts, and then opened my own international restaurant, and gained extensive experience as a Chef.
When I returned to Lebanon in 2014, I started working as a Private Chef and launched my catering company, which is located in Kesrouan.
How did you manage to spread your name among people?
I started by launching a Facebook page, receiving projects as a Private Chef, and appearing directly on TV programs to get people to know me more.
Today, I have more than thirteen thousand fans on my page, and I interact extensively with the posts and photos I post.
In the near future, we will start with expanded advertising campaigns; we are still working on a marketing plan that will be focused on social networking sites, on people's interaction and word of mouth. By its very nature, Lebanon requires a person to launch a special ad campaign in order to get known.
What factors helped you succeed in this particular area?
I do not offer traditional, regular or simple recipes, but I invent my own. So I create new and distinctive foods, which have a unique touch, and that's what people like about my work.
I'm always trying to get out of the ordinary recipe equation, with the aim of developing and presenting it in a new way that people like; that's what distinguishes me from others.
Are you able today to compete with names and large companies in the Lebanese market?
I have not yet thought about the competition, but I'm sure that when I start thinking, I will be able to compete with anyone with all my strength, because I am confident in myself and in my abilities.
What personal qualities should a person have to succeed in his or her career?
Perseverance is necessary, especially in the food industry, because there are always updated ideas and new creations, so you can not "get stuck" in being traditional.
What I am trying to do now is to show people that they are not only forced to eat traditional food, because we can always invent new ideas and present them in a distinctive and delicious way. With one recipe known throughout the world, we can invent an endless number of ways to prepare it.
What are your projects and future aspirations in practice?
I have several projects in Lebanon, I love my country to the utmost and I have great faith in it. Any goal can be achieved here, and we do not have to travel and give up on our land and our people.
At the moment, I'm more focused on my catering company and on my clients, including a wedding venue I occasionally cater for.
Did your career start interfering with your own life? Did you feel a lack of respect for your personal time because of your preoccupation with your new business?
Of course not, because basically I have been working for about sixteen years in this field, and I have reached a stage where I have mastered the organization of time; so I know how to devote time to my work, my family and my private life.
After all, we are here today, but we may not be here tomorrow, so we can not let work affect our own lives much, but at the same time, work remains important and essential to have a special life.
Who gave you the biggest support in your career?
I want to thank my entire family and my fiance for their support. Because of my family I loved the food industry and obtained a big deal of experience, and my fiance always stood by me, gave me new ideas and helped me reach my goals.
I also want to thank a dear friend, for his unconditional support.
What message would you like to convey to Lebanese youth?
Being abroad is very difficult, Lebanon is ours, and if we do not care about it and cling to its land, who will remain to preserve it?
One of the simplest things is that a person should try before feeling helpless. Young people in Lebanon say they can not succeed because they hear what others say, not because they have tried and did not find results. So I encourage everyone to try, not just once, but several times. A person may fall once or twice or even three times, but he is able to stand up again and again…
"Try, try, and keep trying… When a person insists on a goal, he will inevitably reach it, no matter how long and difficult and bumpy the road is."
Read the interview in Arabic from El Iktisad.
Interview by: Nancy Haykal